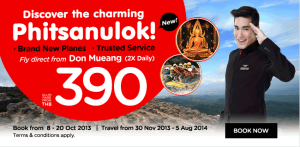 AirAsia has announced its newest route, Bangkok-Phitsanulok. Starting from November 30, the airline will operate two daily flights between the two cities with brand-new Airbus A320 planes.
"In the first three quarters of 2013, AirAsia was focused on increasing flights between our most popular destinations in order to make our passengers' travel experience more convenient and flexible," said Tassapon Bijleveld, chief executive of Thai AirAsia. "In the fourth quarter of this year, we will be receiving five additional new aircraft, ending the year with a total of 35 Airbus A320s, which will be used for new destinations, two of which are domestic routes."
The airline also recently announced the launch of two daily flights between Bangkok and Khon Kaen.
"Phitsanulok's location in the central part of Thailand's lower Northern region makes it an ideal travel gateway and hub for business travellers," Tassapon said. "We are taking this opportunity to strengthen our domestic connectivity to this city which has positive potential as an economic centre and tourism gateway for the surrounding cities.
"AirAsia's brand-new planes, low fares, and excellent connectivity to over 85 destinations in the region makes it a perfect choice for all travellers. Along with Thai AirAsia's most recent positive on-time performance record as a result of the airline's move to Don Mueang Airport, business travellers can be assured that they will arrive on time for their meetings."
Santisuk Klongchaiya, director of commercial operations for Thai AirAsia said: "We are also aiming to provide more convenience to tourists and leisure travellers who are interested in exploring Phitsanulok and nearby destinations such as Sukhothai, Thailand's ancient capital with World Heritage sites, which is only a one-hour bus ride away. Other nearby cities include Uttaradit, Phetchabun, Loei, Phichit and Kamphaeng Phet – destinations that are full of cultural and natural attractions.
"The twice-daily flights between Bangkok and Phitsanulok will fulfil the travel needs for many people, including those in the government and education sectors who often need to conduct training programmes in Bangkok. The frequent flight times will enable them to accomplish a convenient day trip," Santisuk added.
Panadda Chanpanya, director of the Tourism Authority of Thailand's northern markets division, said: "We are confident that the launch of AirAsia's new route will have a positive impact on tourism for the area.
"Along with the airline's connectivity to international destinations, more tourists from abroad will be able to access Phitsanulok and its nearby cities including Uttaradit, Phrae, Nan, Sukhothai and Kamphaeng Phet.
"Along with this, more Thai people will also be able to travel conveniently to this area, and this will benefit the local economy, which is in line with what we are working towards at the Tourism Authority of Thailand."