Qiang embroiderers work primarily with cotton threads, as well as silk, using 16 types of stitches to shape vivid, bright patterns representing local flora, fauna, and daily activities on clothes and household textiles.

The Qiang are an ethnic minority population of about 320,000 largely concentrated in Sichuan Province. Referring to themselves as Erma, "the local people," they have lived in remote areas of Sichuan for generations. In 2008, the province was struck by a massive earthquake, and formal cultural preservation and recovery efforts involving Qiang communities have combined community rebuilding with commercial enterprise and tourism projects.
Learn more about Chinese embroidery at the Artist Talk on July 12 at 6pm.
PRICES
Everyone: FREE
Saturday, July 12, 2014
12:00PM – 8:00PM
North Exhibition Common
235 Queens Quay West, Toronto Ontario
Sunday, July 13, 2014
12:00PM – 6:00PM
North Exhibition Common
235 Queens Quay West, Toronto Ontario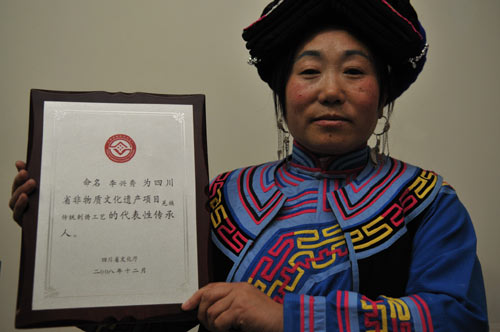 Li Xinglu 李兴秀
Li Xingxiu is an embroiderer, designer, and entrepreneur from Pinggou village, Mao County, Sichuan Province. She first learned the embroidery traditions of her Qiang ethnic community from her mother when she was six years old. Since 2003, her company Qiang Village Embroidery Workshop has employed local embroiderers to produce her designs and patterns. Following the 2008 Sichuan earthquake, which seriously impacted Qiang villages, she has focused on training others. In 2011 she published the first book for teaching Qiang embroidery stitches and techniques.