The Italian national who was believed to be on flight MH370 has told Thai police that his passport went missing last year from a motorbike rental shop on the tourist island of Phuket, where hundreds of passports are thought to be lost or stolen every year in a black-market racket.
Luigi Maraldi, 37, said he was on holiday last summer when he left his passport at an undisclosed rental shop in Patong, the resort island's tourist centre, only to discover when he later went to collect it that the shop owner had handed it over to a man who "looked similar".
Passports are often asked in exchange for car and motorbike rentals in Phuket – visited by 12 million tourists every year – but the island is a hotbed of identity theft, and complaints of stolen and lost passports are rife.
According to Italian honorary consul Francesco Pensato said: "We have 250,000 [Italian] tourists a season, so it's normal that [some] lose a passport."
Pensato confirmed that Maraldi had had his passport stolen in Phuket in July last year, and that the number of the passport used to board the flight was the same as that of the stolen passport – ruling out any possibility that there was another Luigi Maraldi with the same date of birth who may have been on board.
Christian Kozel, the 30-year-old Austrian citizen listed on the flight's manifest, also had his passport stolen two years ago during a flight from Phuket to Bangkok, the Austrian foreign ministry said.
Malaysian officials are now using CCTV footage to try to identify the two travellers, while investigators are also looking into reports that another two passengers may have been travelling on false documents.
Just why the men posing as the Italian and Austrian would have used the false documents is still unclear. Terrorism is a possibility, but so is asylum: six Syrians hoping to seek refugee status in Sweden have been detained for over a month at Phuket's international airport after attempting to fly to Stockholm via Beijing on Greek passports. Local media outlet Phuketwan reported that the group said they had chosen to fly through Phuket and Beijing because other refugees had reached Sweden using the same flight path.
The two men on board MH370 had booked onward flights via Beijing to Amsterdam, and then Copenhagen for the "Italian", and Frankfurt for the "Austrian". The two men seem to have purchased their one-way tickets at the same time from a travel agency in the Thai beach town Pattaya on Thursday.
Both Kozel's and Maraldi's passports had been reported stolen and were listed in Interpol's database, yet the airline did not cross-check the 40m-record database to confirm whether any passengers on flight MH370 were flying on dubious documents.
Terrorism expert Rohan Gunaratna from Singapore's Nanyang Technological University said there were only two categories of travellers using stolen passports: criminals and terrorists.
"To blame Malaysian authorities for this is probably unfair – they have to get it right all the time and potential hijackers just have to get through once," he added.
Malaysia Airlines officials told a press conference on Sunday that terrorism was being investigated as a reason why the plane may have tried to turn back, as reports of potential serious lapses in security at Kuala Lumpur International airport emerged.
Just a few months ago, the Malaysian Anti-Corruption Commission and police formed a "flying squad" to address allegations of immigration officers accepting bribes to allow illegal immigrants into the country. At the same time human trafficking gangs were reportedly selling a "Get into Malaysia package" for £450, in return for which the buyer was smuggled into the country and given a fake "MyKad", the compulsory identity document for Malaysian citizens.
Malaysia's deputy home minister, Wan Junaidi Tuanku Jaafar, said the government does not deny that "there may be some black sheep among the staff" and added: "Generally, they are good, efficient and honest officers. We will not allow them to be condemned, nor will the department be condemned because of the actions of a few."
The US is expected to investigate the stolen passports once the FBI arrives in Malaysia to assist with the investigation.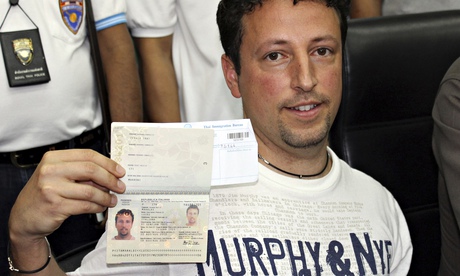 Luigi Maraldi, whose stolen passport was used by a passenger boarding flight MH370, holds his current passport. Photograph: Krissada Muanhawong/AP