In June 2009, ten famous Chinese streets, all in different provinces, were included on a list of "Historical and Cultural Streets in China". The aim, in compiling the list, was to promote the protection of key cultural sites in the country's cities.
Today, we're beginning a brand new series, all about these ten famous streets. To start things off, we head to Tibet.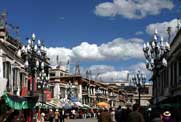 There's an old saying among Tibetans, "Jokhang Temple was built before Lhasa itself." Originally built in the seventh century, the Temple is one of the oldest buildings in Tibet. Tibetan Buddhists believe that Jokhang Temple is at the centre of Lhasa and Lhasa is at the centre of the world. In other words, it is the most sacred temple in Tibetan Buddhism. Surrounding the temple is Barkor Street, and it is a key act of worship among Tibetan Buddhists, to circumnavigate the temple, walking clockwise along this street.
To Cedor and Huang Jialin, Barkor Street is a place of warmth and charm. Their lives are closely associated with the street. And the many historic buildings have provided them with plenty of inspiration for their writing and painting.
In the years of Reform and Opening, Barkor Street and the life of the people there, have been transformed in many ways. At the same time, a number of traditional objects and practices, such as the thangka and the famous landmarks on Barkor Street, still remain, unaltered for hundreds of years.
Jokhang Temple and the circumambulation of prayer, make Barkor Street a highly religious place. On the other hand, its many thriving shops and busy merchants make it an important centre of temporal life. As the writer Cedor says, Barkor Street is at one and the same time, a religious river and also a river of daily life. Material and spiritual values coexist here; as do tradition and modernity. However, while commerce on Barkor Street continues to flourish, some of its traditional culture and living habits are being lost in the course of its development.