Wednesday, March 23rd, 2011
Today, we'll continue with our series about famous streets in China. Qingdao, with its azure sea, white sand and green trees, is one of China's most beautiful coastal cities. It's also unique, in that it combines the charm of southern China with the prosperity of the north. On top of that, Qingdao can claim to be one of the country's more westernized cities, a result of being occupied by the Japanese and Germans in the late 19th and early 20th centuries. Lying on the southern side of the Shandong Peninsula, its mountain slopes and coastal plains are covered with modern cityscapes and old European-style architecture. Today, we'll take you to an area of Qingdao called Badaguan. It's one of the most famous streets in China.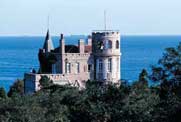 Qingdao was made a special city by the Nanjing Nationalist Government in April 1929. After that, a series of large-scale construction projects began, which attracted an influx of foreign investment as well as domestic capital. As a result, Qingdao entered a period of fast growth and prosperity. Many of the officials serving in the Nanjing government were educated in Europe and the United States, and their western perspectives on urban planning and architecture changed the face of the city forever.
The large-scale construction attracted many young Chinese architects to Qingdao, who designed and built beautiful homes for the rich and powerful. Badaguan became something of a showcase of architectural art. After the founding of New China in 1949, the Badaguan area was turned into a public sanatorium.
Today, Badaguan is a symbol of Qingdao. With its great natural and man-made beauty, it attracts visitors from all over the world. Travelling from west to east along the seashore of Qingdao, there's much more to see than just picturesque seascapes. Hidden among the beautiful natural landscapes are examples of the city's great cultural heritage. In Badaguan in particular, what makes this heritage special is its unique blend of Eastern and Western influences.