Saturday, March 26th, 2011
Today, we're continuing our series about some of the most famous streets in China, with a visit to Harbin's Central Avenue. Work first began on Central Avenue in 1898, and today it is known as a "gallery of European architectural art." Its attractive buildings feature the diversity of western classical styles of architecture. Anyone who has ever visited Moscow, Paris or Rome, is likely to get a sense of deja-vu, as he or she strolls along Harbin's Central Avenue.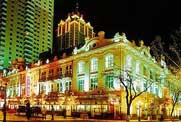 During the Russo-Japanese War of 1904 and 5,Harbin served as a rear base for the Russian Army. After the war, the city experienced a massive influx of foreigners, most of them Russians, who brought with them their own lifestyles, cuisine and arts. Before long, European-style buildings were being erected along both sides of China Street.
Central Avenue's prosperity didn't last long. In 1932, Japanese forces occupied Harbin, and the city became part of the puppet state of Manchukuo. The Japanese immediately began expropriating private property and terrorizing the civilian population. 14 years of Japanese rule would leave the city with memories of pain and humiliation.
In the 2009 poll to discover the top ten Historical and Cultural Streets in China, Harbin's Central Avenue stood out for its uniquely eclectic mix of European architectural styles. The buildings, in their designs, range from European Renaissance to Baroque, 18th-century neoclassical to 19th-century Art Nouveau. In other words, this single street exhibits nearly 300 years of western architectural history. Central Avenue in Harbin is the longest pedestrian street in Asia, and a centre of leisure, entertainment and shopping in the city.